1: 2017/06/08(木) 14:24:15.73




His NHK drama was cancelled
Details in tomorrow's Friday





1: 2017/06/08(木) 14:39:41.48
According to a weekly magazine, actor Koide Keisuke was drinking with and acquainted with an underage girl. According to his agency, Koide acknowledged the information, and Koide's activities were cancelled indefinitely.

His agency explained, "There is information in tomorrow's tabloid related to Koide Keisuke about drinking and fraternizing with an underage girl, and according to the acknowledgement of the information from Koide Keisuke himself, it was confirmed that he drank alcohol and had an inappropriate relationship with the minor."

"In regards to the girl involved, I offer my sincerest apology from my heart. In regards to this incident, I deeply apologize to the people who have looked after me and the fans who supported me."

Koide also said, "Earnestly, as a member of society and as a someone who appears in the public, I have had such low degree of self awareness. There is no room for excuses."


7: 2017/06/08(木) 14:27:18.15
This guy is trash wwwww


8: 2017/06/08(木) 14:43:17.69
He was caught in a trap


10: 2017/06/08(木) 14:27:42.12
Even ikemen like high school girls one way or the other


14: 2017/06/08(木) 14:28:19.14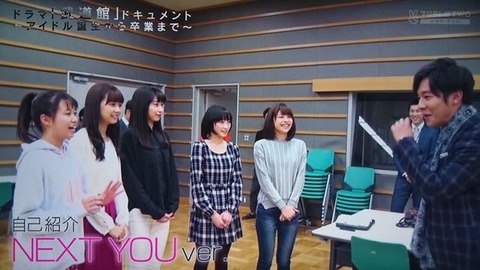 The two criminals photographed together


18: 2017/06/08(木) 14:29:46.42
There won't be any more repeats of JIN...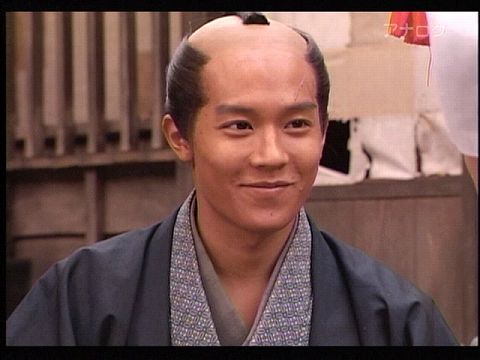 18: 2017/06/08(木) 14:50:25.80
So after the drama ended shooting
At this timing does this mean that he did this regularly?

21: 2017/06/08(木) 14:55:56.05
Men basically like young girls


22: 2017/06/08(木) 14:57:53.65
At 17 their skin is nice and smooth
Couldn't be helped


19: 2017/06/08(木) 14:30:15.05
He's trash www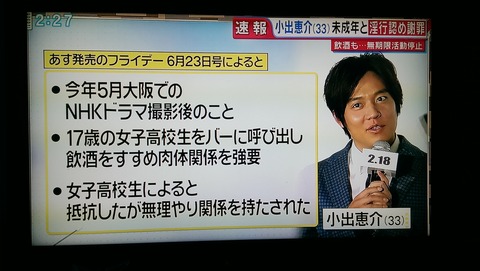 -He was in Osaka for shooting of an NHK drama
-He called a 17 year old girl to bar and coerced her to drink alcohol and forced sexual relations
-According to the high school student she protested but he forcibly had relations with her


37: 2017/06/08(木) 14:34:05.63
>>19
If it was forced then he is a criminal and should be in jail
He must be popular with girls in life so why does he have to force someone


30: 2017/06/08(木) 14:31:51.64
The balance between supply and demand is too bad
Change the law


34: 2017/06/08(木) 14:32:27.90
On Goody [tv show] they said that if the girl was a celebrity then it wouldn't have gone this far


22: 2017/06/08(木) 14:30:22.16
I have new affinity for him
He has the same hobbies as us...


42: 2017/06/08(木) 14:35:21.87
Huuuh? I only thought Koide-kun was wholesome...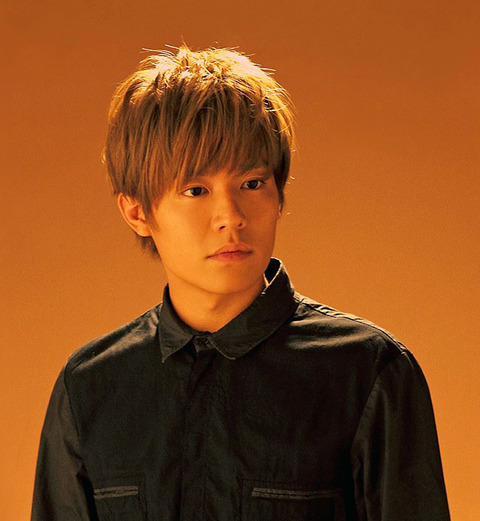 45: 2017/06/08(木) 14:35:57.45
Doing it forcefully with a high school girl must have been unbelievable I get it I get it~


53: 2017/06/08(木) 14:37:38.14
His NHK drama, in which he had a starring role, was cancelled
That means it was done shooting
If they demand breach of contract fees it will surpass the tens of thousands


55: 2017/06/08(木) 14:38:11.80
This is a trap I bet


original